Mgr. Martin ERLEBACH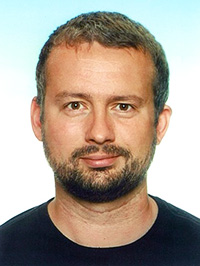 research project worker, doctoral candidate at Masaryk University
room 5.010 (5th floor of the Faculty of Science building), tel. (+420) 585 634 527
e-mail: martin.erlebach@upol.cz
consultation hours: time corresponding to classes or anytime by prior arrangement (e-mail)
Teaching competence
In Czech
Člověk a biosféra (KGG/MAB)
Prostorové interakce a deformace (KGG/PID)
Regiony a geografická regionalizace (KGG/RGR)
Seminář z geografie cestovního ruchu a rekreace (KGG/SESL)
Qualifications
2007–2010
Bc. (B.Sc.)
Palacký University Olomouc, Faculty of Science (study programme Regional Geography, bachelor thesis Vývoj využití ploch na území města Trutnova: vybrané problémy)
2010–2013
Mgr. (M.Sc.)
Palacký University Olomouc, Faculty of Science (study programme Regional Geography, diploma thesis Proměny krajiny města Trutnova)
od 2013
Masaryk University, Faculty of Science (study programme Regional Geography and Regional Development, topic of dissertation thesis Lokální trhy práce České republiky: problematika jejich optimální velikosti a uzavřenosti)
Publications
Erlebach, M., Klapka, P., Halás, M., Tonev, P. (2014): Inner structure of functional region: theoretical aspects. In 17th International Colloquim on Regional Science. Conference Proceedings. (Hustopeče 18. – 20.6. 2014). Masarykova univerzita, Brno, s. 722–727.
Klapka, P., Halás, M., Erlebach, M., Tonev, P., Bednář, M.(2014): A multistage agglomerative approach for defining functional regions of the Czech Republic: the use of 2001 commuting data. Moravian Geographical Reports 22 (4), 2–13.
Erlebach, M. (2014): Vývoj využití krajiny východních Krkonoš: příklad obce Babí u Trutnova. Opera Corcontica, Vrchlabí: Správa KRNAP, roč. 2014, č. 51, s. 85–96.
Klapka, P., Erlebach, M., Král, O., Lehnert, M., Mička, T. (2013): The footfall of shopping centres in Olomouc (Czech Republic): An application of the gravity model. Moravian Geographical Reports 21 (3), 2–16.
Research interests
regionalisation of the Czech lands with focus on optimal size and closedness of functional regions, local labour market in the area of the Czech Republic